Narratives of young women activists in Hong Kong 2019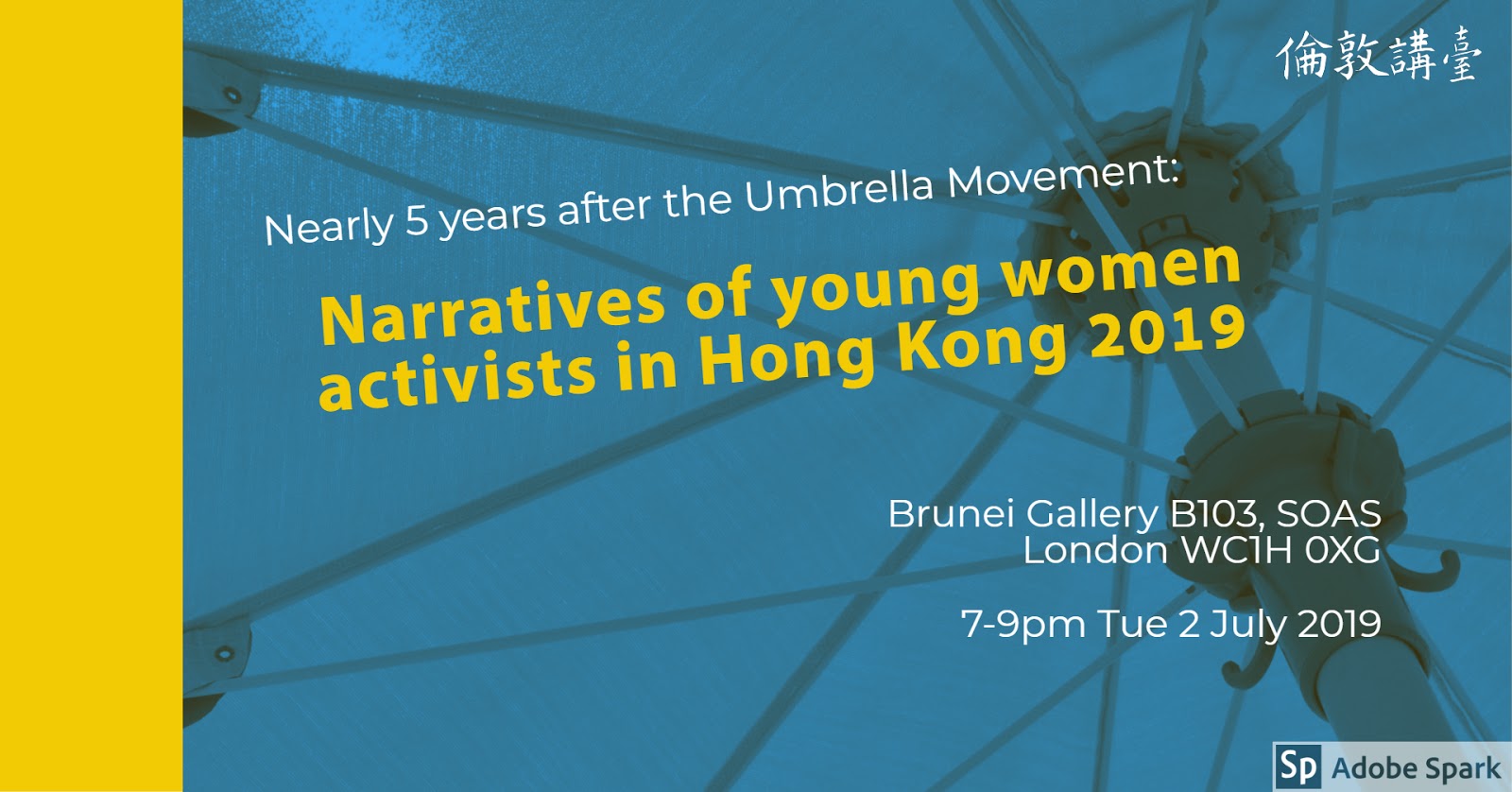 Nearly 5 years after the Umbrella Movement:
Narratives of young women activists in Hong Kong 2019
Venue: Brunei Gallery B102, SOAS, London WC1H 0XG
Time: 7-9pm Tue 2 July 2019
The Young Girls' Heart (少女的心)was created in 2015 as a mutual help group on Facebook by the young Umbrella Movement activists to share their common experience of online gender and sexual harassment during and after the Umbrella Movement! Sadly, most of these attacks were from the "radical localists/right plastics!" who were supposed to be our comrades in the democracy movement!
Our international research team, including Professor Stevi Jackson (The University of York, Dr Kong Sui Ting (Durham University) and Dr Celia Chan (HKU) decided to involve these young women in the evaluation of the Umbrella Movement focusing on how social movement participation have impacted on their personal life and relationships! We have produced journal papers and documentary films from this collaboration and hope to share them at HK Watch meeting and our seminars in this London trip!
In the past few years, the Young Girls Heart have worked with us to share our views through seminars, conferences and a multi-media theatre, with a view to raise awareness about gender issues and politics! In 2017, we also reached out to the partners and intimate comrades of the political prisoners and engage them in making their voices heard!
In this seminar, we hope to engage the audience in a dialogue on issues facing HK and the strategies women activists use to protest against authoritarian rule!
Brunei Gallery B102, SOAS, London WC1H 0XG 7-9pm Tue 2 July 2019
Note: The discussion will be in either English or Cantonese. 本次活動語言以英文或廣東話為主。