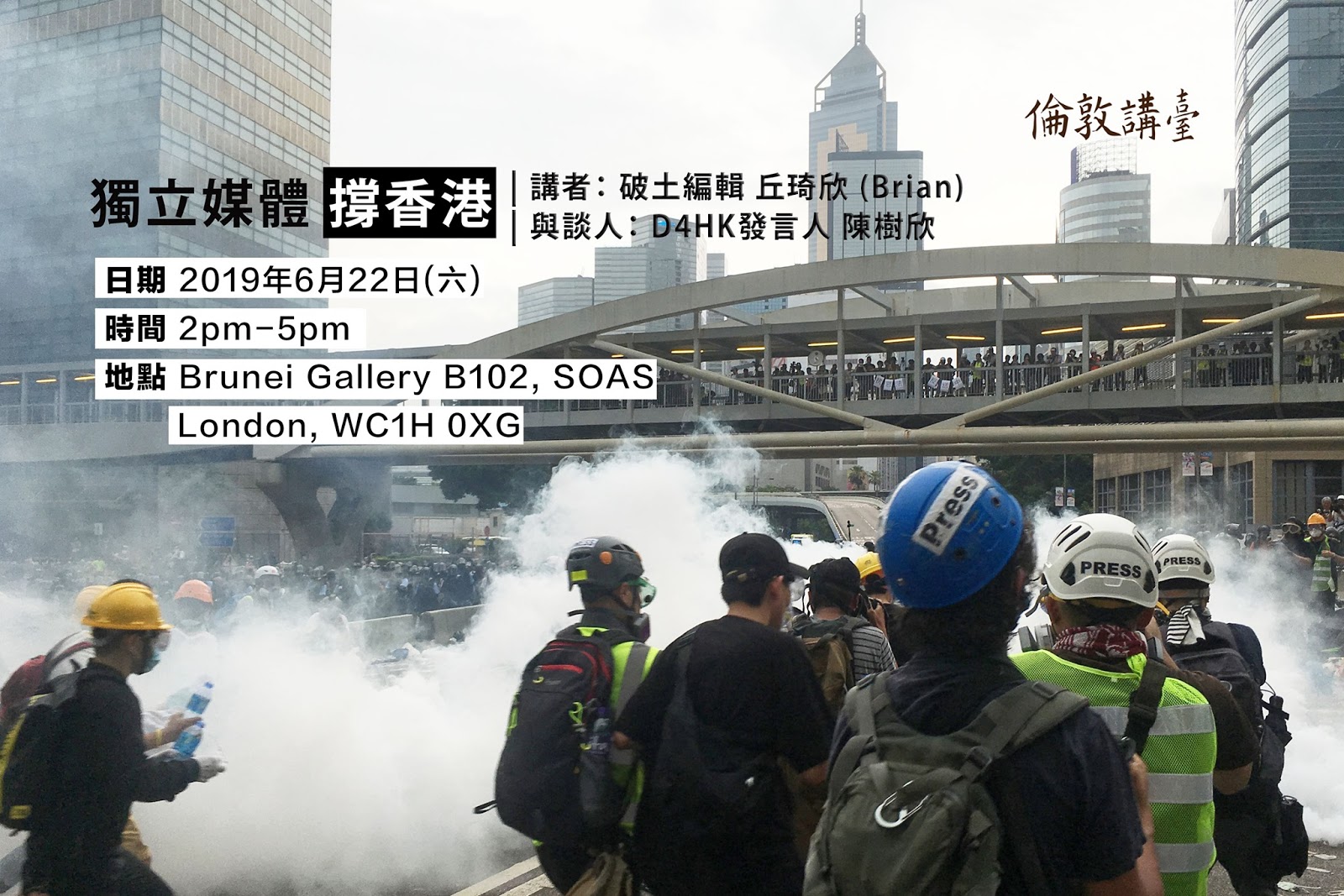 Saturday, 14:00-17:00, 22 Jun 2019
Brunei Gallery, SOAS, London
Independent Media supports Hong Kong
Speaker: Brian Hioe
Panellist: Shu Yan Chan
Venue: Brunei Gallery B102, SOAS, London WC1H 0XG
Time: 2-5pm Sat, 22nd June 2019
New Bloom editor Brian Hioe will speak about his experiences in Hong Kong last week's protests. Hioe was in Hong Kong to report on the demonstrations there and observed the spontaneous, largely leaderless actions which erupted last week after Sunday's demonstration (June 9th), which mobilized over one million Hong Kongers in protest, as well as the police violence which took place on Wednesday, June 12th. During the course of police actions against demonstrators on Wednesday, Hong Kong police fired rubber bullets, bean bags, water cannons, and tear gas at demonstrators, reportedly firing close to twice as much tear gas in one day as was used during the entire Umbrella Movement in 2014.
Apart from speaking about his observations last week, as a writer and researcher of Taiwanese social movements and a participant in the 2014 Sunflower Movement in Taiwan, Hioe will also compare and contrast current demonstrations in Hong Kong to social movement organizing in Taiwan.
In the second half, Hioe will be joined by Shu Yan Chan, spokesperson of Democracy for Hong Kong (D4HK) to make a panel discussion on a variety of topics regarding Hong Kong's NO Extradition to China social movement, exchanging ideas as an activist, a documentarist and a supporter of Hong Kong overseas.
Brian Hioe was one of the founding editors of New Bloom. He is a freelance writer on social movements and politics, and occasional translator. A New York native and Taiwanese-American, he has an MA in East Asian Languages and Cultures from Columbia University and graduated from New York University with majors in History, East Asian Studies, and English Literature. He was Democracy and Human Rights Service Fellow at the Taiwan Foundation for Democracy from 2017 to 2018.
丘琦欣,創建破土的編輯之一,專於撰寫社會運動和政治的自由作家偶而亦從事翻譯工作。他是出生於紐約的台裔美人。他自哥倫比亞大學畢業,是亞洲語言及文化科系的碩士,同時擁有紐約大學的歷史,東亞研究及英文文學三項學士學位。
Note:
Please arrive 10 minutes prior to the start time to reserve your seat. 場地座位有限,敬請提早十分鐘入場。
The second half - panel discussion will be carried out mainly in English. 下半場活動將以英文為主。