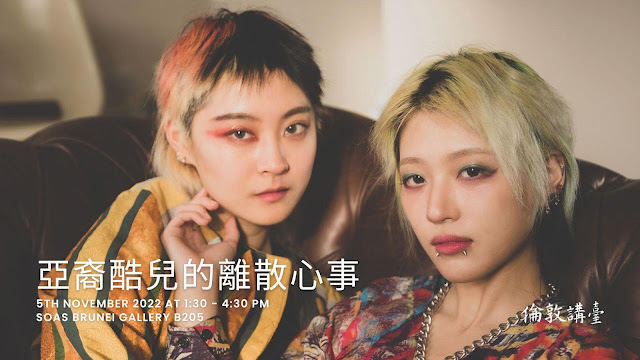 倫敦講臺秋季活動來啦! 這次我們透過兩位藝術家Samuel和壽安的作品,邀請你從亞裔酷兒的生命經驗,感受旅居異鄉的層層壓迫與層層解放,還有那串聯起你們、我們、他們的離散心事。
Banner design: Denny Han
Photo Credit: Shou-An Chiang
*本活動以中文進行
*影片播放語言為英文與中文
*The artists' English bio & project brief can be found at the end
講者/作品介紹:
Samuel (he/him/they)
多學科視覺藝術家和 LGBTQ+ 權益倡導者,出生於中國上海現居倫敦。他最近剛畢業於倫敦大學金史密斯學院的視覺人類學碩士項目學科。從在倫敦傳媒大學的攝影本科時期,他受訓於以理論調研為基礎的視覺藝術實踐,主要通過攝影,電影和裝置等媒介探索生命政治、離散和酷兒身份。在倫敦的這幾年里, LGBTQ+ 非盈利機構的志願者身份為他打開了一扇門,讓他更接近他自己所屬於的社群,以及對社會科學和人文學科有更切實際和深入的理解。他的第一部論文型電影「在我們離開和到達的地方」被選為2022年倫敦國際網絡和短片電影節的半決賽。
《在我們離開和到達的地方》
這部影片是圍繞著酷兒離散這一主題展開的,作者把個人的一些經歷和其對象的信件作為一個開頭同時也是一條隱線 ,把個人掙扎放射到一個更廣泛的社會背景中去討論。與離散交織在一起的酷兒身份同時也意味著家的概念對他們來說被再次矛盾化,不光是因為人們在移民和離散的過程中其民族文化身份認同會發生轉變,還因為自己的酷兒身份在祖國同样遭到排斥。在倫敦,對於這些在文化、地理或社會上被邊緣化的酷兒中國人來說,在哪裡都是一種流放的狀態。
蔣壽安 Shou-An Chiang
畢業於倫敦藝術大學中央聖馬丁學院的當代攝影、實踐與哲學碩士,目前旅居於倫敦。創作領域跨足攝影、錄像、表演和裝置,其中探索了關係和身份的模糊性,並由自身經驗出發描繪多元社會中的疏離感。
近期展出包話:Solo exhibition "QUEERASIAN" at Liquid Gold Studios, London (2022); duo Exhibition, "Images Scene 2: Mirror, Mirror Sticker, Projector" at broom design, Tainan (2022); selected group exhibition "Bon Voyage!" at Slash Arts, London (2022) and selected group exhibition "Visual Noise" at Maryland Studio, London (2022)。合製實驗紀錄短片《隔》(2021) 獲選為其中短片頻道第四季資助,並於台北紀州庵文學森林首映。受邀前往美國紐約及費城參與演出沈浸式表演《有鬼》(Where Are You Today?) (2022)。
《亞裔酷兒肖像拍攝計畫》
由內部視角展示出這些群體在西方社會中的樣貌和故事。透過一系列在被攝者生活場域中所拍攝的環境肖像和記錄影像,呈現亞裔酷兒們在通常西方語境下不被看見的多種姿態。
---
Samuel (he/him/they)
A multidisciplinary visual artist and LGBTQ+ rights advocator who was born in Shanghai based in London. He recently graduated from Goldsmiths (University of London) with a master's degree in Visual Anthropology. He was trained as a research-based visual practitioner focusing on biopolitics, diaspora, and queer identity by exploring mediums such as photography, film, and installation during his undergraduate education at the London College of Communication (UAL). The volunteer work for LGBTQ+ NGOs opens a door for him to get closer to his community and a more practical understanding of social sciences and humanities. His first essay-like film "In the place where we left and arrived" has been selected as a semi-finalist by London International Web and Short Film Festival 2022.
《In the place where we left and arrived》
This project revolves around the subject of Queer Chinese Diaspora, starting from a personal journey to a shared experience in a wide social context. The queer identity intertwined with diaspora implies the concept of home that is being problematised by ethnocultural-identity transformation through transnational movement and immigration and the rejection experienced in the home country as identifying as queer. The reality for people who are marginalised either culturally, geographically, or socially, is always a state of exile.
Shou-An Chiang
With an MA in Contemporary Photography, Practices and Philosophies from Central Saint Martins, University of the Arts London, Shou-An Chiang currently lives and works in London. She works across photography, video, performance and installation, exploring the ambiguity of relationships and identities, and portrays alienation in a pluralistic society from her own experience. Recent exhibitions include the Solo exhibition "QUEERASIAN" at Liquid Gold Studios, London (2022); the duo Exhibition, "Images Scene 2: Mirror, Mirror Sticker, Projector" at broom design, Tainan (2022); the selected group exhibition "Bon Voyage!" at Slash Arts, London (2022) and selected group exhibition "Visual Noise" at Maryland Studio, London (2022). The co-produced film Separated(2021) is funded and premiered in Taipei by Together We Film (其中短片頻道). Invited to New York and Philadelphia, the USA to perform in the immersive performance Where Are You Today? (2022).
《Queerasian》
The faces we don't see in certain places.
Series by Shou-An, a visual artist from Taiwan who has resided in the UK for three years, having studied an MA in Contemporary Photography with Central Saint Martins. Her camera has always been drawn towards storytelling in the form of portraiture. The Queer Asian project explores the identities and stories from an inside perspective. It investigates the multifaceted experiences of the LGBTQ+ belonging within the Asian diaspora, and those who do not conform to the norms of Western society – not heterosexual, and not cisgender, through a series of environmental portraits.